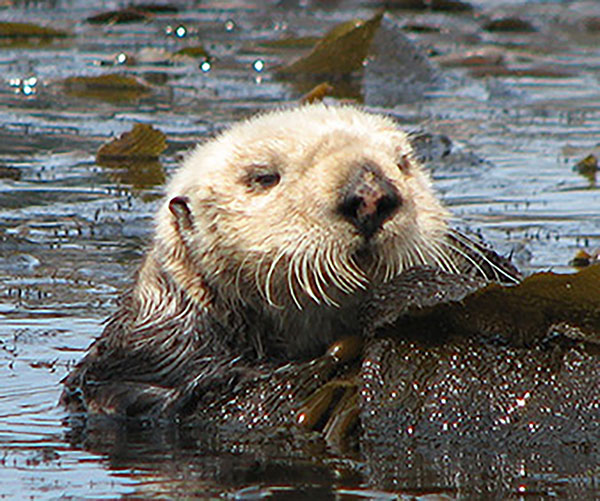 Wharf Nature Tour- SC Paddling Experience
Kayak Nature Tour
Approximately Two Hours of Paddling
Kelp forest creatures; sea otters, seals and sea lions.
Join Venture Quest for a relaxing morning or evening paddle on the bay. As you leave the land, you will leave all the worries and stress of the city behind and enter the wilderness of Monterey Bay . It's easy, safe, and fun. We will begin near the wharf and pass by seals and otters as we glide through the waters near Lighthouse Point. Single and double kayaks are available. We will meet at the Kayak Rental Office, #2 Santa Cruz Municipal Wharf . We provide all the equipment, instruction, and guides. Beginners welcome. An easy intro to kayaking and the creatures of Monterey Bay!
DATES ; YEAR-ROUND
Year Round. Choose any date, and call for available times. Mornings are recommended; 9 or 10 AM. Best Weather; March thru November
COST
$70 each adult, $40 each for accompanied kids.
Kayak Tour of Elkhorn Slough
National Estuarine Reserve
Bird watching with sea otters and seals in a calm estuary
Kayak sailing too!
We meet in the North Harbor of Moss Landing in the morning for a 3-hour adventure.  9 or 10 AM, those are the best start times. If conditions permit, we may take a cruise to the harbor entrance to look for dolphins or whales. Then we will paddle into the marsh, watching for sea lions, seals, otters and interesting birds such as the Long-Billed Curlew and White Pelicans. This fun tour includes all kayaking equipment, single or double kayak, guides, an introductory lesson and natural interpretation. For calm water paddling, seal, otter, and bird watching this is the place to go.
DATES;  Year-round
Year round! We have most dates available. Privat tours! (minimum 3).
COST
$80, $50 for accompanied kids under 16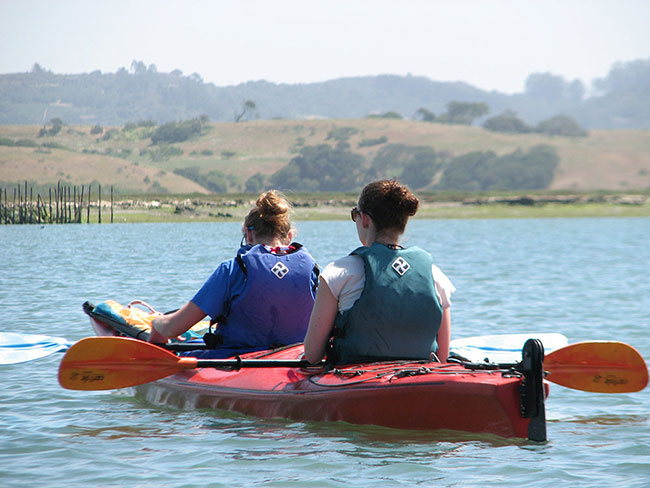 Humpback Whales at Moss Landing and Sea Otters of Elkhorn Slough
Whale watching outside of the Harbor
Plus bird watching with sea otters and seals in a calm estuary
Kayak sailing too!
Just off the coast of Moss Landing in lies the Monterey Bay Submarine Canyon.  This deep water trench winds its way from Moss Landing out to sea to a depth of 2 miles. The canyon walls create upwelling which brings nutrient rich waters to the surface and kicks off the whole food chain. The bay supports a huge variety of fish, birds and marine mammals. On calm mornings we paddle out of Moss Landing Harbor in search of Humpback Whales. We may encounter a  number of species of whales, dolphins, sea lions, seals, sea otters, giant sunfish, crazy birds and fish!. Typically, we paddle out a mile or 2 from shore.  After paddling in the open ocean we explore the calm Elkhorn Slough National Estuarine preserve. Throughout the season we see whales about half the time. But in the summer and fall we see them nearly every time.  This adventure tour includes all kayaking equipment, double kayak, guides, an introductory lesson and natural interpretation. For its variety of wildlife, this trip cannot be beat.
DATES
Year-round. Weather dependent especially during the winter. Best April through November. We have most dates available. Choose your own date for a private tour (minimum 3).
COST
$85
Moonlight Paddles
What could be more romantic than to paddle off into the sunset then watch the moon rise as you glide through its sparkling reflection?  Meet in the late afternoon at the Santa Cruz Wharf.  Hang out with the sea otters while the sun sets and wait for the moon to rise. Bring warm clothes and a flashlight. Beginners welcome.
DATES;
You choose! Best nights are within one week before the fullmoon.
Times; Meets at one and a half hours before sunset. 
COST;
$70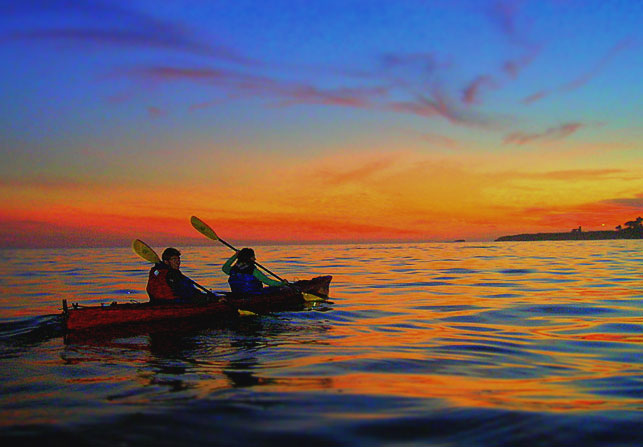 Santa Cruz Sea Caves and Kayak Sailing
The Sea Caves of Wilder Ranch
Four miles of downwind Kayak Sailing
Our journey starts at 4-Mile Beach where we will launch our kayaks from the beach and paddle down the coast to the sea caves and pocket coves of Wilder Ranch. After paddling through 'Hole in the wall' cave we will enjoy a nice lunch on a secluded beach. Then we will hoist the kayak sails for an exhilarating ride downwind, past Natural Bridges and Seal Rock to the Santa Cruz Wharf. We will shuttle back to the cars at the end of this adventurous day.
DATE
Summertime. Call for available dates
COST
$150
Call Today to Book Your Tour!